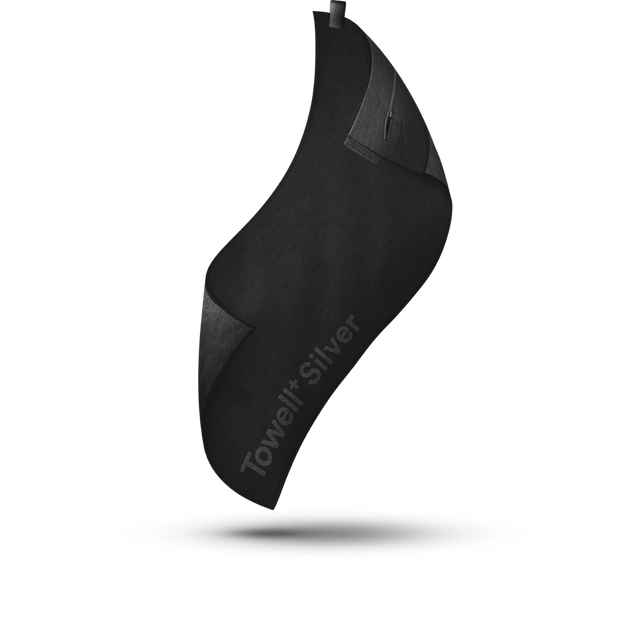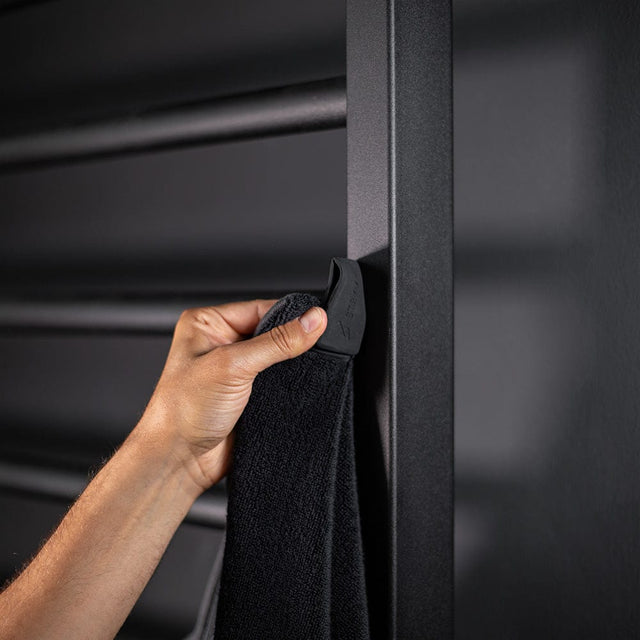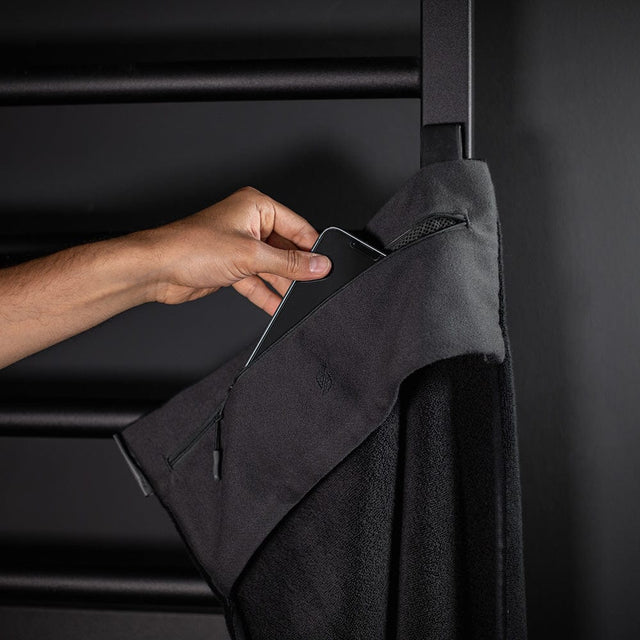 Towell+ Silver - antibacterial sports towel
The most functional sports towel. Now with Silvershield.

WHY we designed a better antibacterial sports towel:
Quality and hygiene are important to us. By processing the STRYVE Silvershield material in our Towell+ Silver, we achieve optimal protection and enable hygienic training. In addition, the additional processed functions, such as the magnetic clip, the mobile phone compartment or the slip protection offer further added value for men and women.



Bacteria and odor repellent
Protects against the growth of bacteria and fungi. The special coating of the cotton prevents the formation of bacteria that lead to the smell of sweat.


magnetic clip
The Towel features a powerful mini magnetic clip that allows for easy hanging from studio equipment and other metal surfaces in the gym. This means that you no longer have to put your towel on the floor in between workouts, but can easily and conveniently attach it directly to the equipment.

slip protection
Prevents the Towell Plus Silver from falling off sports equipment. Especially during a strenuous workout, a normal towel can quickly slip and fall off the bench. With the Towell+ this can no longer happen.


Device & body side
The Towell+ Silver has an easily recognizable front and back for more hygiene during sports. In addition, at 105 cm it is significantly longer than the Towell+.


Bag
Stow your keys, membership card, and much more in the pocket and close everything with the zipper. The special feature of the Pro variant is the woven cotton material around the pocket.


Inner phone pocket
Operate your phone easily through the touch-sensitive mesh inside the pocket. So you can also read the news during training or simply change your music via your mobile phone.


High-quality materials
Our latest version of the sports towel is made of zero-twist cotton with a magnetic clip that also holds heavy objects in the pocket thanks to the neodymium magnets. A must for all women and men.
Product Information

material

Our latest version of the sports towel is made of zero-twist cotton with a magnetic clip that also holds heavy objects in the pocket thanks to the neodymium magnets. A must for all women and men.
96% cotton, 4% polyester, silver ions
Clip : silicone
Magnet: neodymium magnet


Dimensions



The towel is 105 x 42.5 cm. The bag is 42.5 cm long x 15 cm wide.
Selection

The towels are available in two different colors (black & light grey) and also in a set.

Application

The features make the fitness towel a must in the sports bag of all men and women. The fitness towel can of course also be taken on trips to the beach or as outdoor equipment, such as hiking or camping.


Care


Machine wash at 60 degrees
Do not bleach

Do not tumble dry

Iron moderately hot

No dry cleaning

Not suitable for people with pacemakers!

Qualität für den Preis leider nicht wie erwartet, Handtuch fusselt und ist für den täglichen Gebrauch im Studio doch etwas zu schmal. Nach zweimaligen waschen (natürlich unter Beachtung und Einhaltung der Waschhinweise) leider auch nicht mehr so weich wie beim Kauf.
Durchdachtes Produkt
Super Handtuch und bei richtiger Pflege sehr angenehm Anwendbar, lediglich ein tick breiter könnte es sein das im Gym auch bei sitzen mit breiten Polster leichter drüber kommt und man nicht das Gefühl hat es reißt gleich weil es etwas spannt :)
Leider kein Handtuch, wenn man mit Klett-Handschuhe trainiert
Super schönes und weiches Handtuch. Aber wenn man irgendwas mit Klett hat beim Trainieren, wie z.B. an den Handschuhen, dann ist das Handtuch absolut ungeeignet. Es ist super sensitiv und nach 3 mal trainieren, sieht es aus wie andere Handtücher nach 3 Jahren. Würde es selbst nicht wieder kaufen.
Bin zufrieden, einwenig größer dürfte es sein.
Perfektes Sporthandtuch fürs Studio
Das Handtuch ist wirklich genial fürs Training im Studio - der Magnet haftet perfekt - das Reissverschlussfach ist super praktisch.
Sehr angenehmes Material
Für mich persönlich dürfte das Handtuch ruhig größer sein .
Ich würde es jederzeit wieder kaufen und verschenken
With the purchase of the Towell+ Silver you support the Koala from Australia. We donate 3% of profits to help preserve his habitat.
Did you know that koalas are very picky about what they eat? They only eat fresh eucalyptus leaves. An enzyme in your body protects you from the toxins contained in eucalyptus.