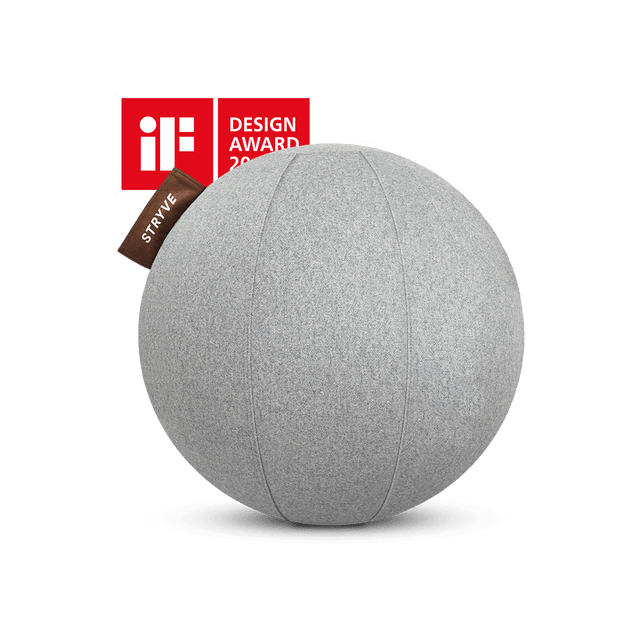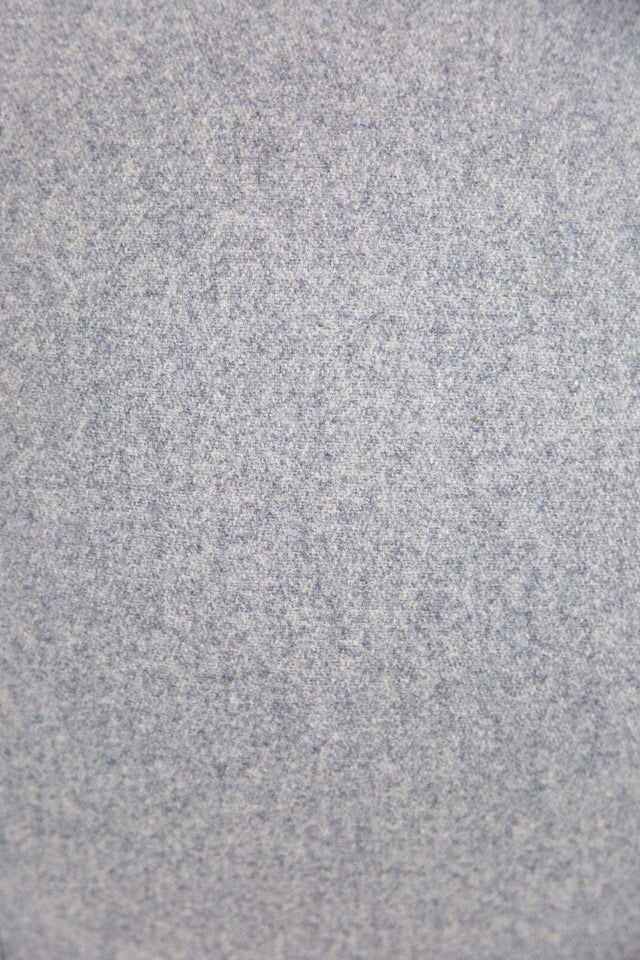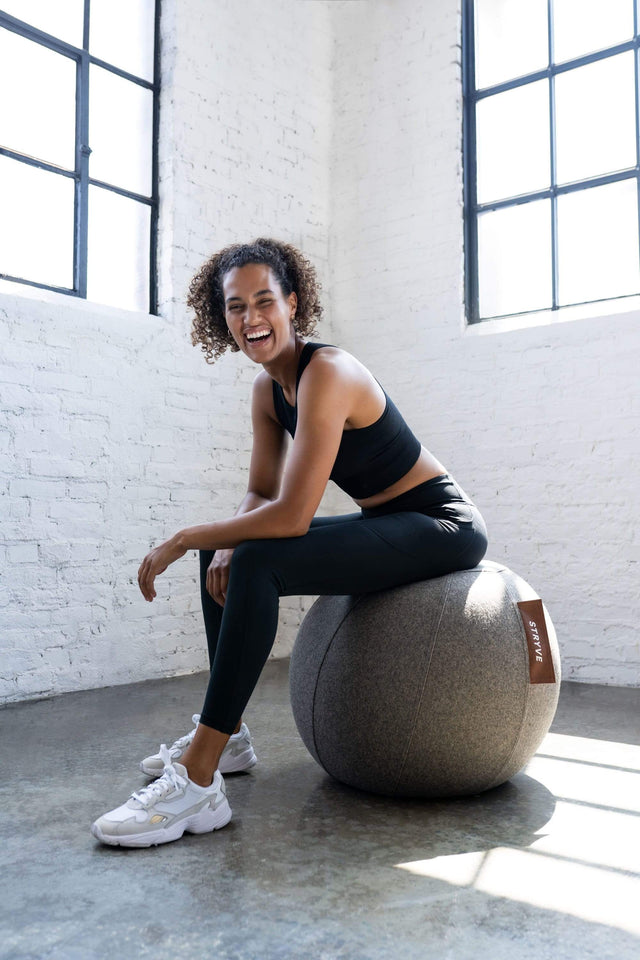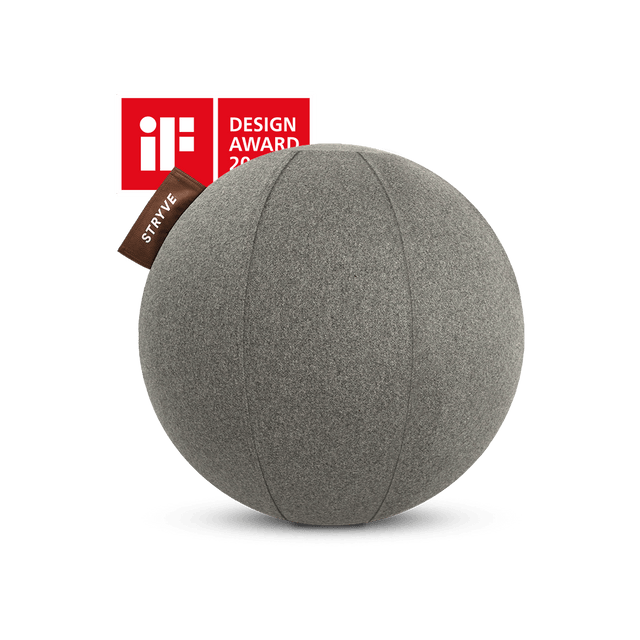 Active sitting on the STRYVE exercise ball. Aesthetic and functional at the same time.

WHY we designed a better exercise ball:
It bothered us that the classic exercise ball rolled away unintentionally. That you could only carry the ball with both hands, that dust collected on every part of the ball, which then got stuck on clothing and that the exercise ball didn't go with any furnishing style.

Balanced automatically
Thanks to the integrated weight elements inside the cover, the Active Ball swings itself independently.

Functional label
For easy lifting, carrying and aligning the Active Ball .

Ergonomic sitting
The Active Ball keeps you constantly moving thanks to its shape.

Dust-repellent seat
The wool felt cover keeps the ball dust-free and your clothes clean.
Clear design language
With its minimalist design, the ball harmonises with many facilities. In addition, the STRYVE Active Ball made of wool felt is available in two different shades of gray (Warm Gray & Light Grey).
High-quality materials
A precisely processed cover made of wool felt.


Product Information

material

Cover: 90% wool felt; 10% polyester
Inner ball: 100% PVC (burst proof)
Weight element: 100% natural rubber


High security

Thanks to its cover, the Active Ball can withstand high loads and is therefore safer and more durable. Due to the transparent weight elements, no ball shell is required. With the ball pump, which is included, the Pilates ball can be easily inflated to the optimal size.


scope of delivery

The delivery includes a cover of your choice, an inner ball and a hand pump for easy inflation of the ball, including a pump adapter and valve closure.
The STRYVE Active Ball is delivered free of charge within Germany.

size guide

How to find the right size for you:


Are you over 1.90 m tall or do you have above-average legs? Then the 70 cm ball is perfect for you.
Are you between 1.60 m - 1.90 m tall? Then choose the ball with a diameter of 65 cm.
Geniales Produkt
Ich habe den Wollfilzball in 65 cm und 70 cm im Gebrauch,und an den Größenangaben orientiert.
Optik und Funktionalität top:)
Hier allerdings jeweils von Prozentaktionen profitiert.
KLARE KAUFEMPFEHLUNG:)
unzufrieden
Lieferung erfolgte ohne die abgebildeten Adapter zur Nutzung anderer Pumpen
Mitgelieferte Pumpe von miserabler Qualität, ging sofort kaputt, Aufpumpen mit dieser Pumpe extrem mühsam
Weder Zusatzadapter noch neue Pumpe wurden nach Anfrage per Mail nachgeliefert
Das ist kein angemessener Support für solch ein teures "lifestyle" Produkt
Tolles Teil
Rundum ein gelungenes Stück, dieser Active Ball. Bin sehr zufrieden.
Ein Manko für meinen Verwendungszweck ist das Ventil. Müßte ich den Ball nur einmal aufblasen könnte ich damit umgehen, dass es eine kleine Herausforderung ist, die Pumpe richtig zu halten und zum Abschluß rekordverdächtig schnell den Stöpsel zu montieren.
Da ich den Ball jedoch an verschiedenen Locations benutze und dementsprechend häufiger entleeren/wieder aufblasen muß, nervt mich die Ventilkonstruktion. Ist das ein billigeres Ventil oder was ist Eure Idee dazu gewesen ? Wüßte schon gerne, ob andere Nutzer meine Erfahrung teilen.
Ball gut - Rückgabe sehr problematisch - Schade!
Ball ist gut. Stoff wohnlich. Allerdings ist eine evtl. Rückgabe sehr kompliziert und das Guthaben ist nach 3 1/2 Wochen immer noch nicht gutgeschrieben. Also Achtung, wenn man einen Ball zur Auswahl bestellen möchte. Ich hatte mich für die Leinenversion entschieden und den Wollfilzball zurückgeschickt. Kompliziert und mit reichlich Ärger verbunden. Rücksendekosten sind selbst zu tragen. Das ist o.k., aber dass keine Gutschrift bei Klarna erfolgt ist mehr als ärgerlich. Schade!
Active Ball
Gute Qualität und der Ball hat eine tolle Optik.
Bin sehr zufrieden: )
With the purchase of the Active Ball you support the African Elephant. We donate 3% of profits to support elephant conservation.
Did you know that he is known for having much larger ears than his Asian relatives? This benefits them in the African heat, as their large ears allow them to shed excess heat more quickly.