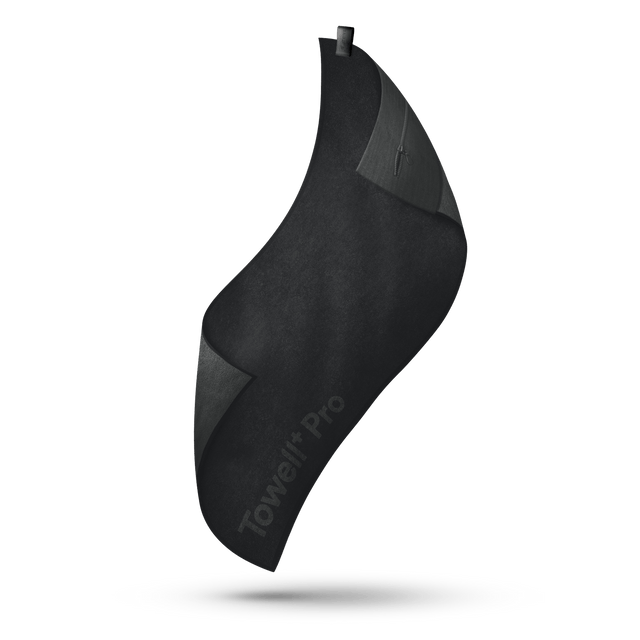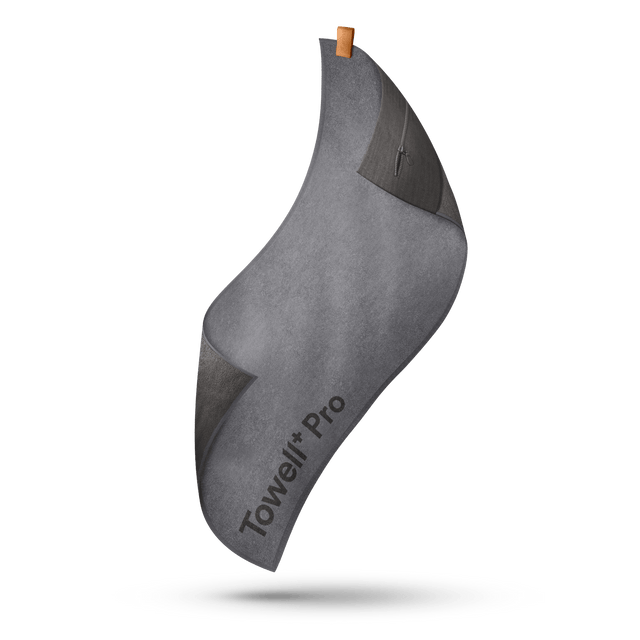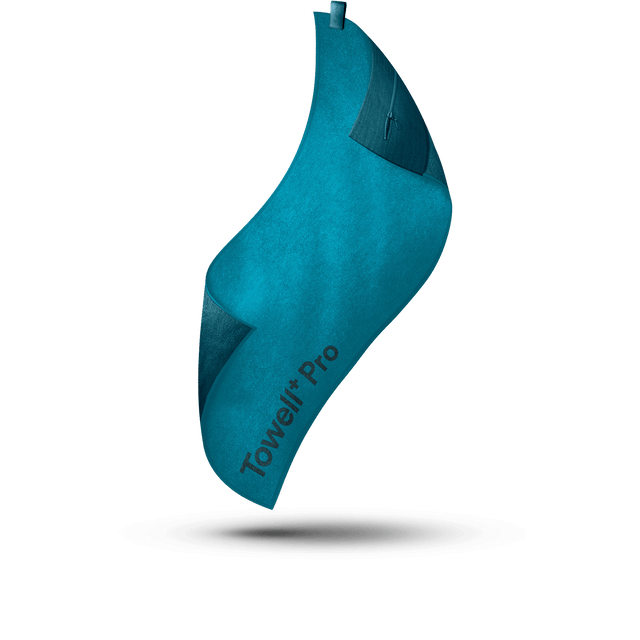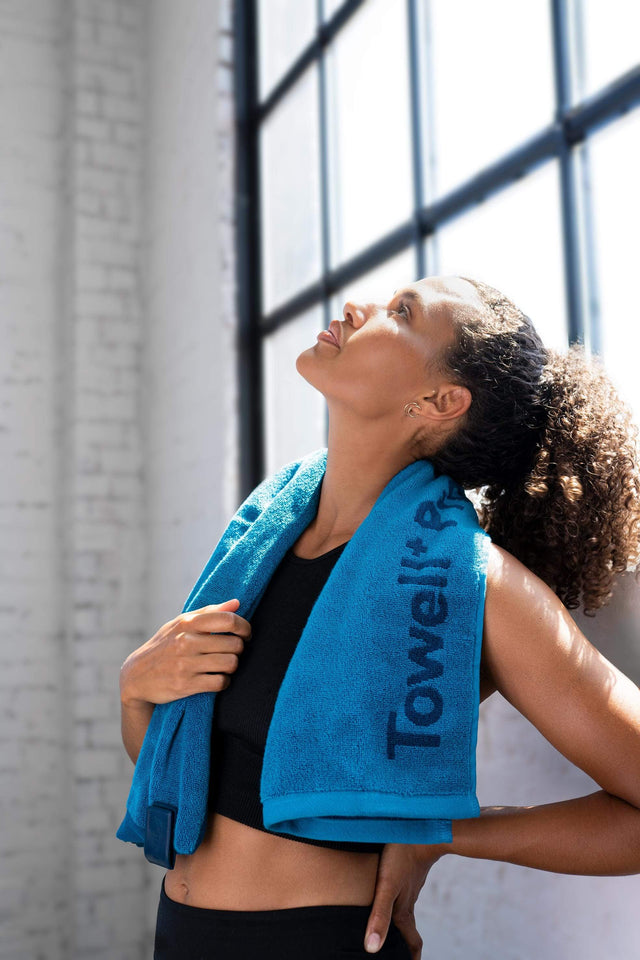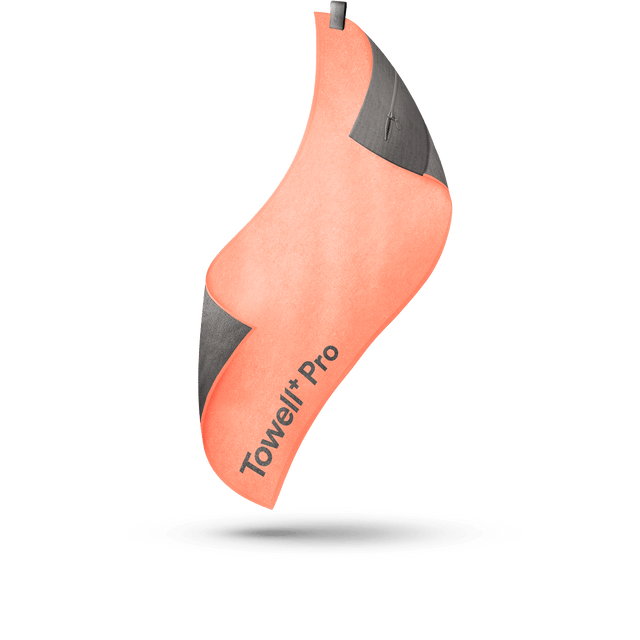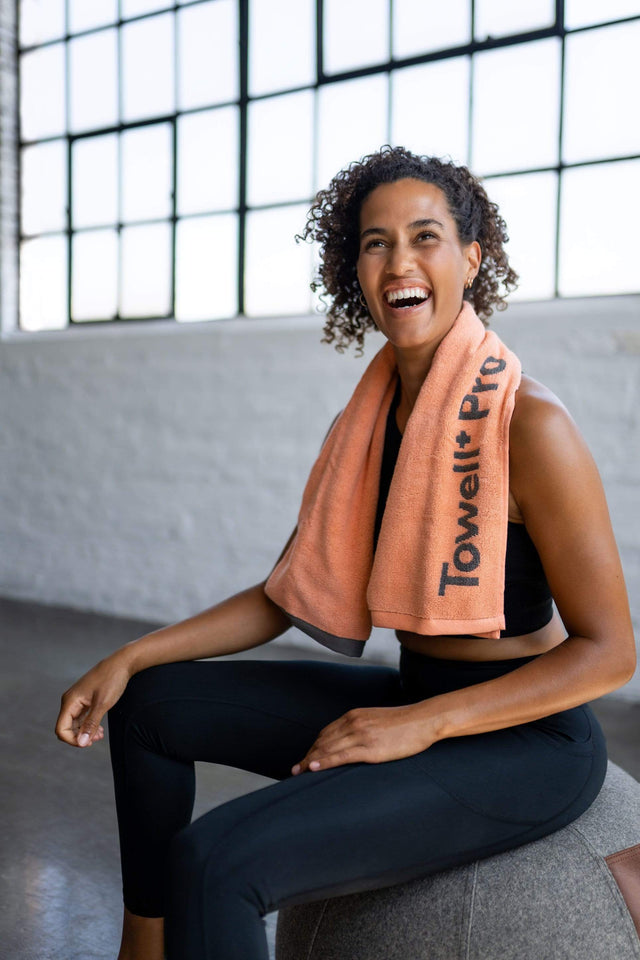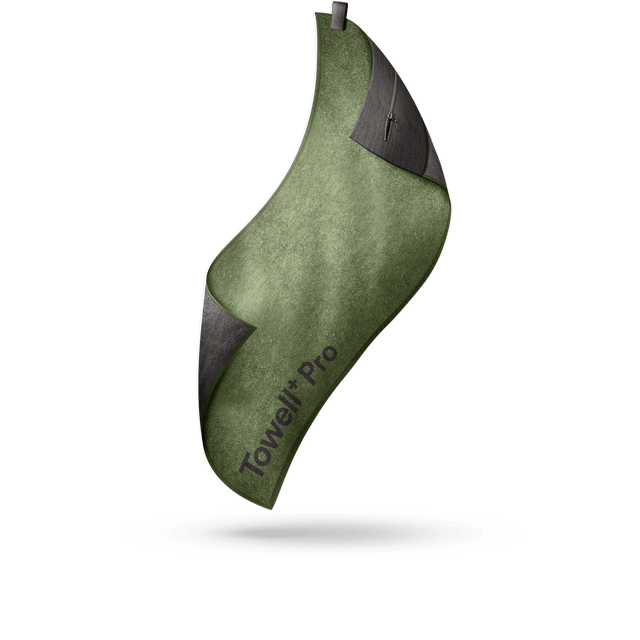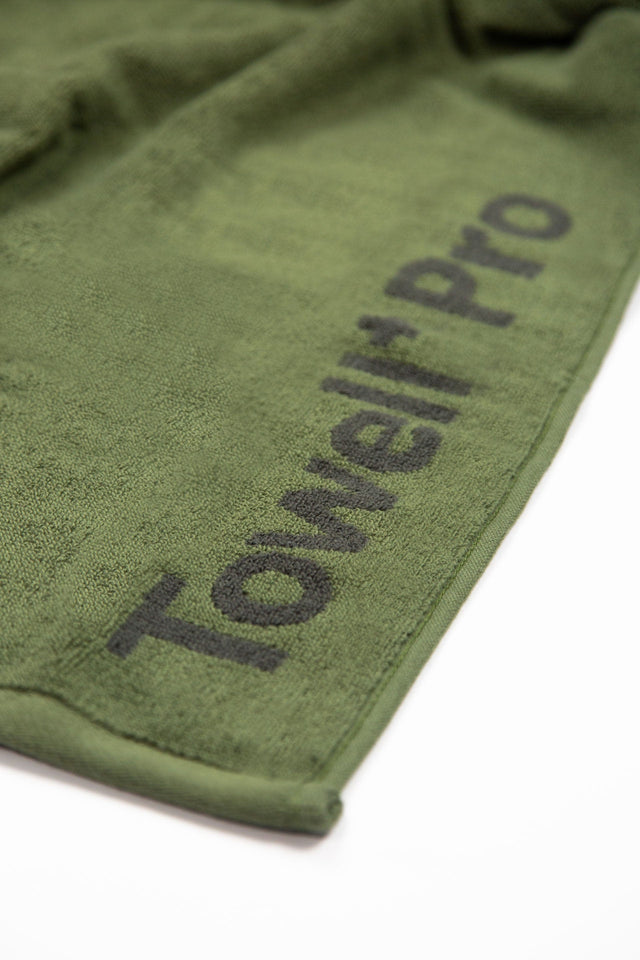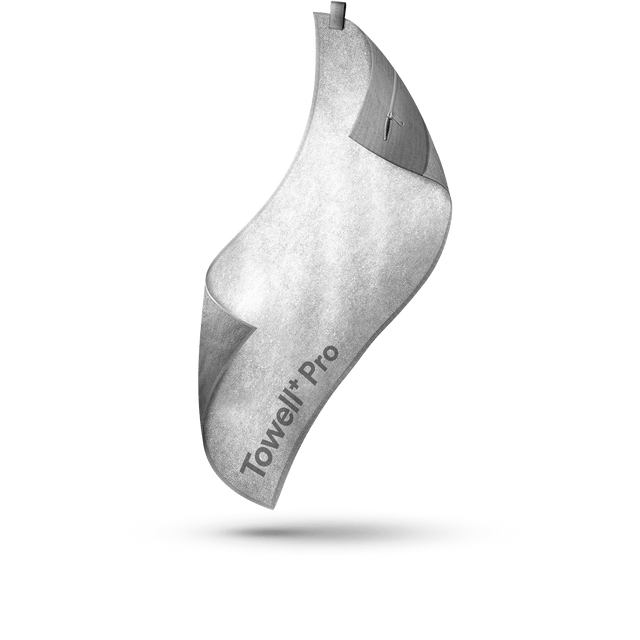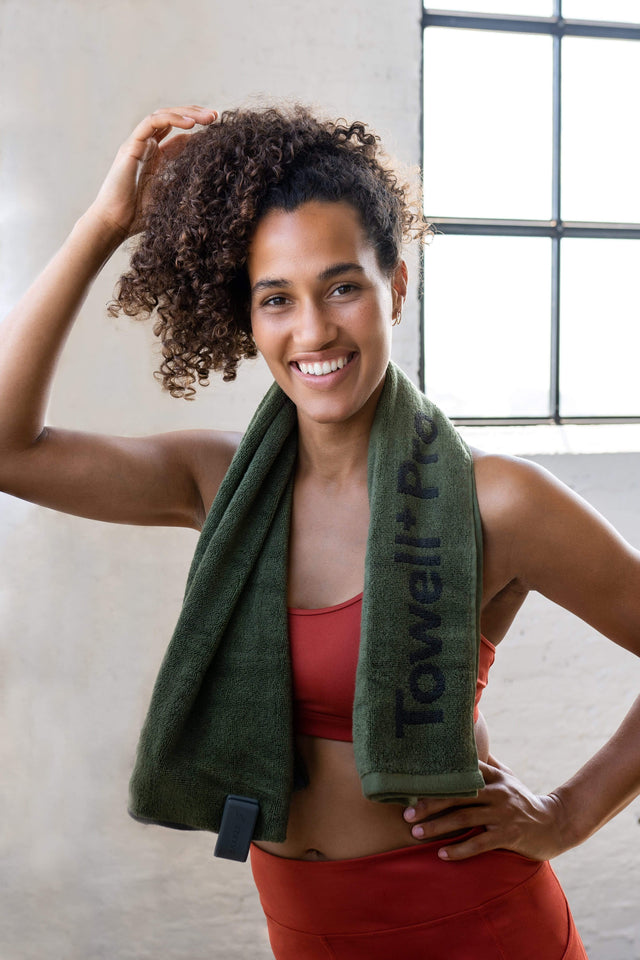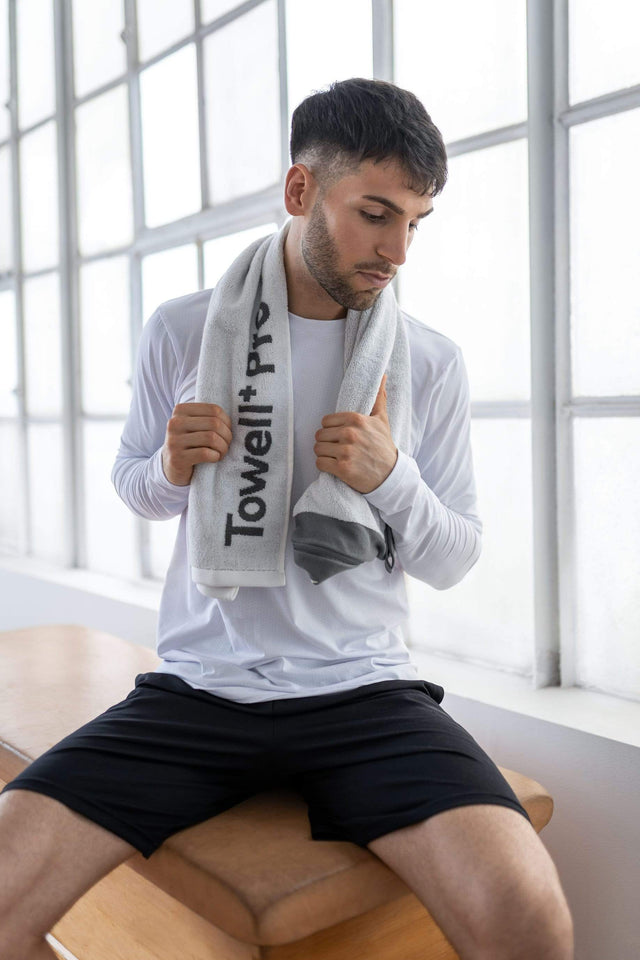 The most functional

sports towel

- now even bigger

.
Why we designed a better sports towel:

So that you don't have to pick up the towel that has slipped off the device during training, carry valuables around in your trouser pockets and wipe your face with the side that was on the device. The new dimensions guarantee that the sports towel covers the entire bench and seat of the equipment.

magnetic clip
For easy attachment to studio equipment and other metal surfaces.


Bag
With zipper for storing keys, membership card, and much more




Inner phone pocket
With touch-sensitive fabric for easier operation of your phone.




Device & body side
Recognizable front and back for more hygiene during training.




slip protection
Prevents the Towell + Pro from falling off sports equipment.


High-quality materials
For a durable product.
Product Information

material

96% cotton, 4% polyester
Clip: silicone
Magnet: neodymium magnet 
Dimensions

The towel is 105 x 42.5 cm. The bag is 42.5 cm long x 15 cm wide.




Selection



The towels are available in different colors such as black, blue or grey. The towels can also be ordered directly as a set.


Application

The features make the fitness towel a must in the sports bag of all men and women. The fitness towel can of course also be taken on trips to the beach or as outdoor equipment, such as hiking or camping.


Care


Machine wash at 60 degrees
Do not bleach

Do not tumble dry

Iron moderately hot

No dry cleaning

Not suitable for people with pacemakers!

Gutes Handtuch
Das Handtuch hält gut, Länge passt für mich auch, die Tasche könnte etwas größer sein, das Handy passt leider nicht rein (iPhone 11 pro Max)
Aber sonnst ja es ok
ausgezeichnet
gute materialqualität und smarte detailllösungen .. es hätte allerdings etwas größer sein können …. aber vielleicht bekommt es mal einen größeren bruder
gute idee
das towell +pro hat eine gute grösse, könnte aber bitte noch ca 10 - 20cm länger sein, da es bei den meisten gym-geräten die rückenlehne gut bedeckt, und mit der "haube" sehr gut hält (rutscht nicht !), jedoch ist das gesäss zum teil nicht bedeckt. schade. ich hatte zuerst ein normales handtuch im gym dabei, und es ist ständig verrutscht, total nervig. daher ist die haube des towell +pro das alleinstellungsmerkmal.
ich habe es seit einem jahr und die naht der haube ist auf einer seite eingerissen, da es die belastung auf dauer evtl. nicht ausgehalten hat, das müsste mehrfach vernäht sein?
ansonsten ein gutes produkt. @ S.M: es ist übrigens ein gym-handtuch und kein strandtuch. für den strand gibt es ein beach towell, siehe website.
Qualität
Da zu wenig vergebene Sterne zur Löschung der Bewertung führen, bewerte ich mit vier Sternen obwohl ich maximal einen Stern vergeben würde.
Minderwertige Qualität! Bereits nach dem ersten Waschen sehen die Handtücher aus wie Sau. Für meine Reklamation habe ich vom Kundenservice nicht mal eine Antwort erhalten.
Meine abgegebene negative Bewertung wurde einfach wieder gelöscht.
Deshalb Finger weg, bringt nur Ärger und lohnt sich nicht.
kam leider in einer total zertörten und bereits geöffnten Verpackung an
Ich habe mich sehr geärgert, da ich das Handtuch für einen Fitnessbegeisterten Bekannten als Geschenk bestellt habe. Es kam in einer total ramponierten Verpackung bei mir an, sodas man das Handtuch aus der Verpackung nehmen muss, damit man sich nicht schämen muss es zu verschenken. Das Handtuch an sich war aber, soweit beurteilbar in einem guten Zustand und ist sicher auch im Fitnessstudio sehr praktisch.
With the purchase of the Towell+ Pro you support the Koala from Australia. We donate 3% of profits to help preserve his habitat.
Did you know that koalas are very picky about what they eat? They only eat fresh eucalyptus leaves. An enzyme in your body protects you from the toxins contained in eucalyptus.