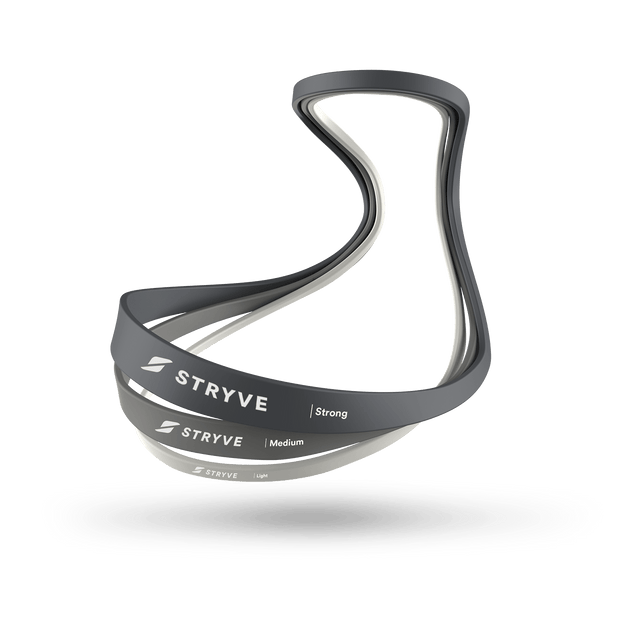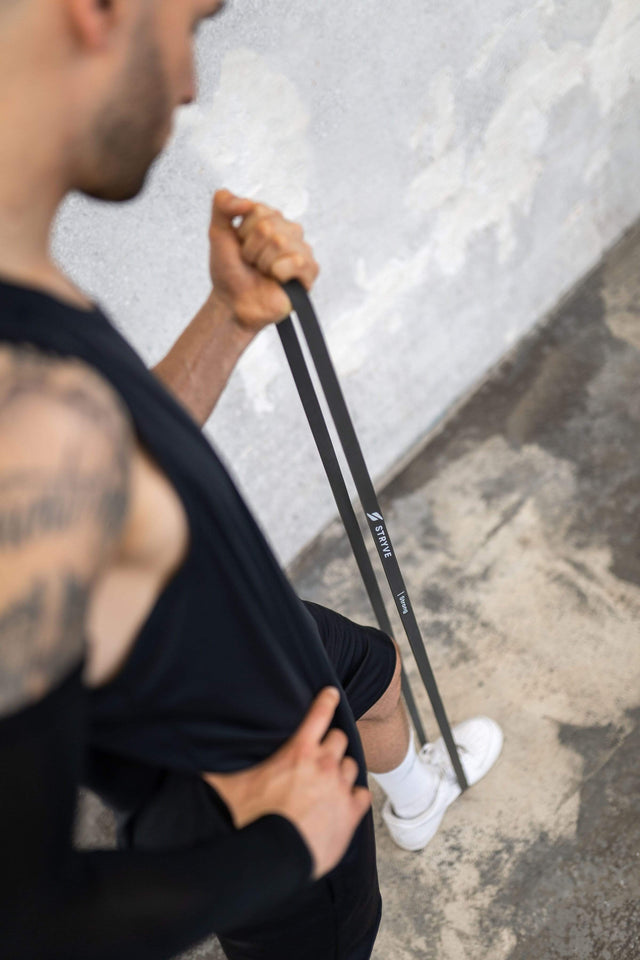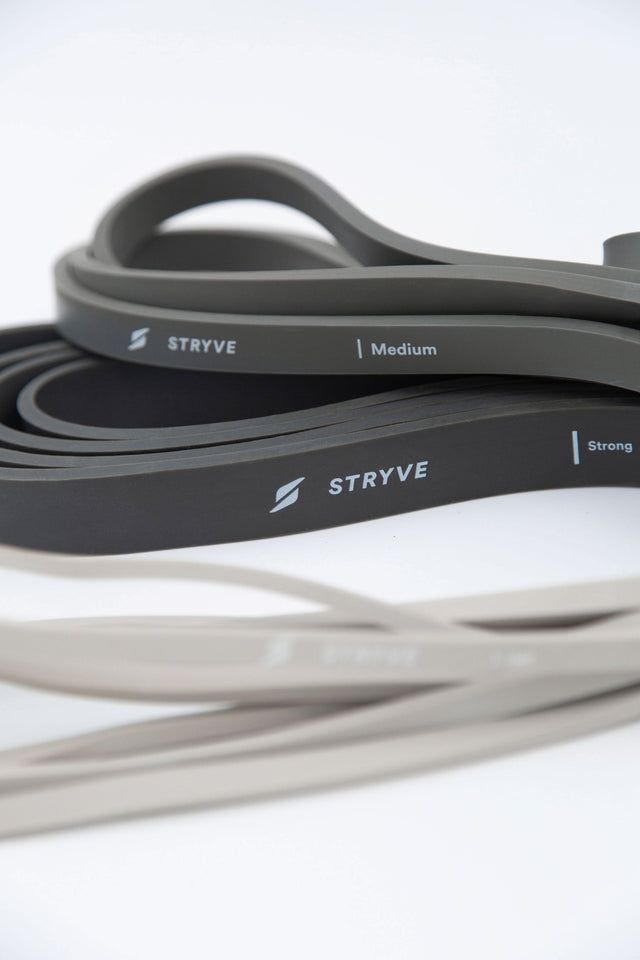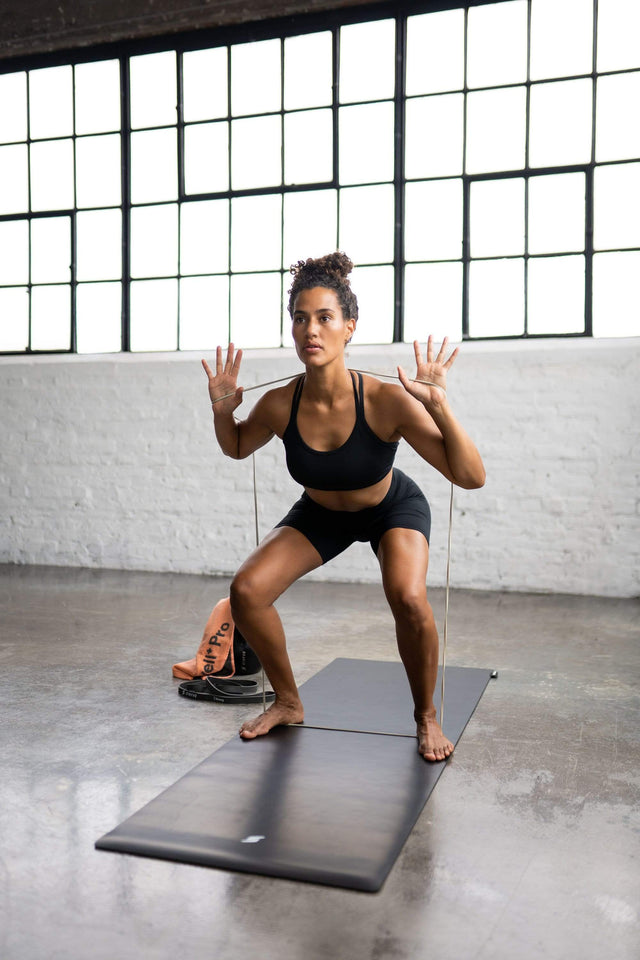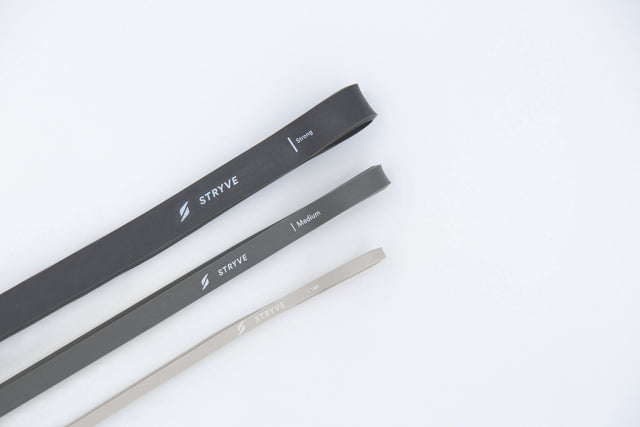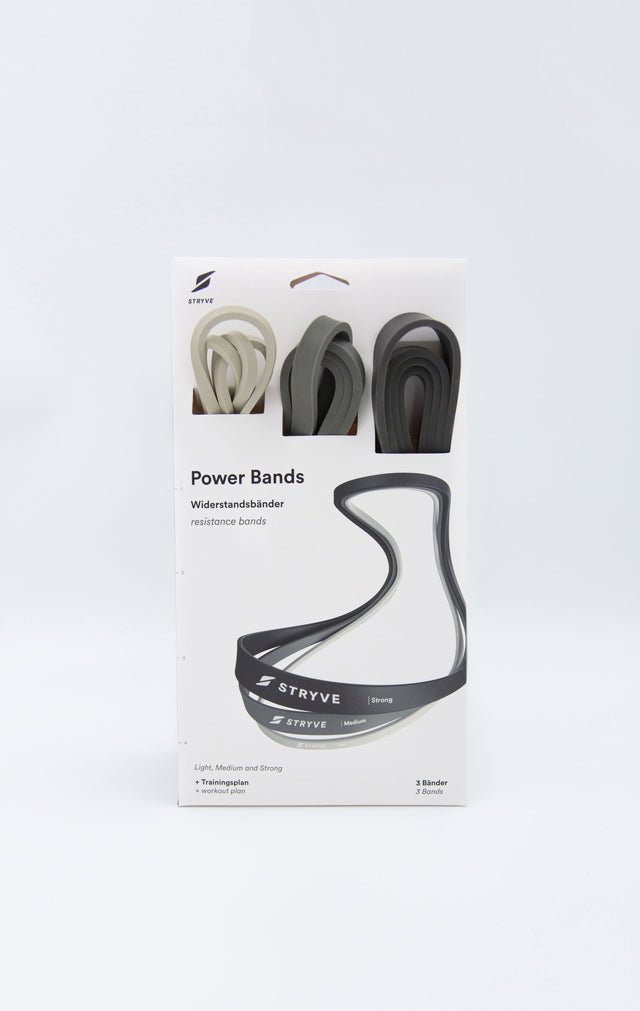 Set of 3 resistance bands. Including training exercises.

WHY we designed better resistance bands for your workout:
The STRYVE Power Bands provide you with optimal support during your strength training by offering you more stability. Simple shades of gray make the Power Bands a stylish companion. Due to the multitude of possible uses, the set is an enrichment for all women and men. The resistance bands are easy to transport and are therefore perfect equipment in the gym, your home gym or on the go. More quality and aesthetics for a functional and adaptive training.

Including resistance band training plan
Available for download and online after every purchase.

resistance and support
Simple pull-ups, effective warm-up, or extra weight.







High-quality materials
The fitness bands are made from 100% natural latex for a durable product. Latex can cause allergic reactions in some people. See a doctor at the first sign of an allergic reaction.




Limitless training
With three levels of hardness from beginner to professional. From light to medium to strong .



Product Information

material

100% natural latex

Latex can cause allergic reactions in some people. See a doctor at the first sign of an allergic reaction.


Dimensions

The resistance bands have a circumference of approx. 110 cm. The light band is approx. 0.7 cm wide, medium approx. 1.2 cm and the strong band measures approx. 2 cm wide.


Application

The resistance band (also called Theraband) is ideal for various exercises and types of sport. For example, for fitness with a fitness band set, workouts at home or in the gym, for muscle building through strength exercises and strength training, upper body training, such as arm exercises, chest training, back, legs, buttocks or stomach and even yoga, crossfit or Pilates. The Terraband offers countless possibilities and is particularly easy to use, for example the rubber band in the home gym can simply be attached to a handle on the door or a bar. The Premium Training Bands are the ideal equipment and accessories for men and women.


scope of delivery

A training set consists of three resistance bands and access to online training exercises including instructions for download.


Resistance
Indispensable for a good workout

The bands work the muscles differently than traditional weights, so it's possible to stimulate the muscles to grow in a whole new position.
Happy Kunden
Moin Moin!
bin sehr happy mit meinen Power Bands.
Ehemalige Deutsche Meister im Basketball
Freundliche Grüße aus Frankfurt
Paul
Preis Leistung stimmt
Besser als Power Bänder einzeln zu kaufen, da man doch hier und da immer wieder mal eine andere Stärke benötigt. Insgesamt klasse.
Fühlen sich gut an - brauche nur zwei
Finde das Set super aber hätte gerne nur zwei gekauft, das Stärkste ist mir zu stark.
Ansonsten super Haltbarkeit.
Gute Qualität, nichts zu beklagen
Ist eien super Ergänzung meines Trainings. Die Qualität ist nach einigen Trainings noch super und zeigt keinerlei Abnutzung oder Ausleierungen.
Top
Ich bin sehr zufrieden, hab mir die Bänder für meine Sportübungen bestellt. Qualität ist super. Versand ging schnell.
With the purchase of the Power Bands you support the preservation of the Sumatran orangutan from Asia. We donate 3% of profits to support monkey conservation.
Did you know that the Sumatran orangutan is one of the oldest great apes and is also known as the "forest man"? His genome is still 97% identical to ours.