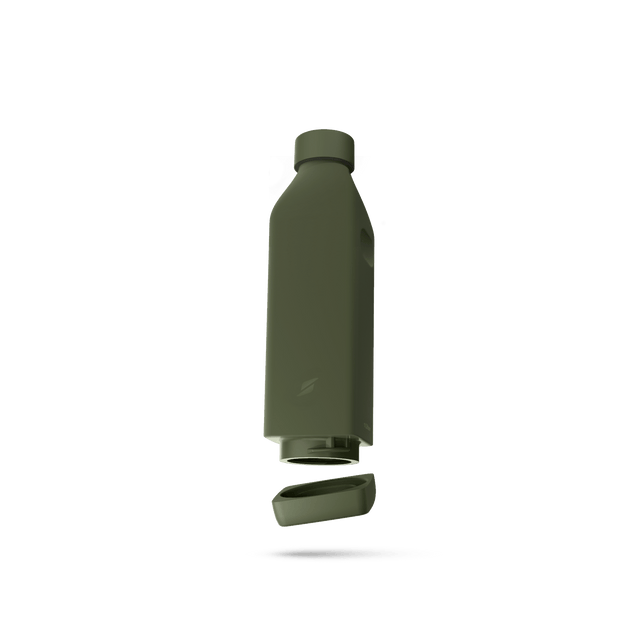 Easy-to-clean drinking bottle in deep green
- 1L.


Why we designed a better drinking bottle:

By simply cleaning the bottle, we want to create a durable product that can adapt perfectly to different situations in everyday life. The large bottom opening makes cleaning easier and allows the drinking bottle to be filled quickly.



Easy cleaning
The Base Bottle can be cleaned very easily thanks to the large opening at the bottom. But don't worry, the Base Bottle is a 100% leak-proof drinking bottle!

Easy filling
Fancy a drink with flavor? The opening at the bottom allows for quick and easy filling with water and, for example, fruit or mint.








Compact design
The Base Bottle can be stowed away to save space thanks to its design and is also suitable as a bicycle drinking bottle.

Perfect volume
The capacity of exactly one liter is optimal.
Pleasant grip
The recessed grips offer a firm hold in the hand. The optimal drinking bottle for sports and everyday life.
Only selected high-quality materials, free from BPA, were used for the long-lasting Base Bottle.





Product Information

material

Tritan, PP, ABS, silicone



Dimensions

The square-shaped bottle measures a width of 7.5 cm on each side and a total height of 27 cm. The upper drinking opening has a diameter of 4 cm. Thanks to the extra large bottom opening of 5 cm, the Base Bottle is particularly easy to fill and clean. With a filling volume of 1 liter, it is ideal for the gym and on the go.


Care

The Base Bottle is dishwasher safe. For cleaning simply remove the drinking and
Remove bottom opening and place all parts separately in the dishwasher. For a particularly
long service life of the bottle, we recommend gentle cleaning by hand.
War teilweise undicht
Die Flasche ist eigentlich nicht schlecht, jedoch war sie teilweise schon an beiden Öffnungen undicht. In letzter Zeit war sie wieder dicht. Auf eine Rückfrage hab ich noch keine Antwort erhalten.
Hammer mega cool
Sie ist Mega hab sie jeden Tag bei Arbeit mit
Liebs!
Bin begeistert. Das Design ist fantastisch - schlicht und dennoch ein Hingucker. Die Flasche hält dicht und bietet genug Platz, um sein Wasser mit Obst aufzupeppen. Nutze die Flasche total gerne!
sehr schick
Die Flasche ist hübsch anzusehen und das Volumen ist super
With the purchase of the Base Bottle you support the preservation of the cheetah from East and South Africa. We donate 3% of the profits to support the preservation of the big cats.
Did you know that the cheetah is the fastest land mammal in the world? It reaches a maximum speed of 130 km/h.